Dogs can come too!
The Waipahihi Botanical Gardens are a dog-friendly area. The only request we have is you have your dog on a leash within the Gardens, for normal safety reasons and to protect any kererū and other birds that might be on the ground. Owners must pick up and appropriately dispose of their dog's droppings - there is one rubbish bin on site, in front of the toilet block. There are water taps distributed around the Gardens with some small fresh-water ponds.
In the Taupō District Council's hay paddock outside the gardens, accompanied and controlled dogs can roam free (see below). Other dedicated nearby dog-walking areas are shown on the map.
On 19 March 2022, the Gardens were again the meeting place for the West Highland White & Scottish Terrier Club of NZ, some members having travelled from Auckland. Here are a couple of images provided by Richard Fowler, a member of their committee. His comment was "Congratulations on your magnificent gardens - our preferred location for club members to meet in the Taupō area."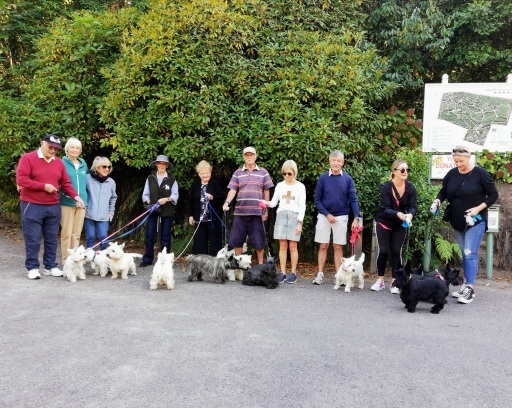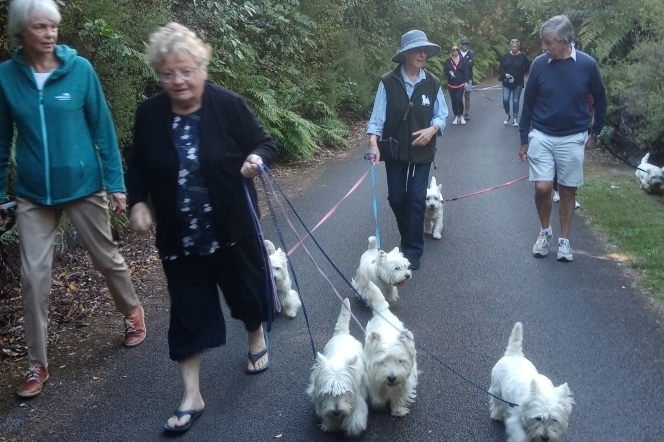 Club dogs
The Taupō district members with their Westie, Scottie and Cairn terriers.
Patron of the club
The Patron, Maureen Murphy, leads the walk with some of her Whitebriar Westies.

Unleashed
Accompanied dogs can have a decent run in the fields outside the gardens, without a leash. You can drive to the top of Botanical Heights Drive and park by the east side gate entrance to the Gardens. On the left you will see a gate to fields where you and your dog(s) can roam. There are also stiles and gates in the fenceline bordering the Gardens. Once inside the Gardens your dog must be on a leash.