Mid-summer. There are many flowering natives at this time of year so you will hear native birds chattering.
A big job over the summer is the quiet and peaceful task of deadheading the rhododendrons. In nature they will do it themselves but we like the bushes to look tidy so we give Nature a hand. Hydrangeas can wait until late winter to be pruned.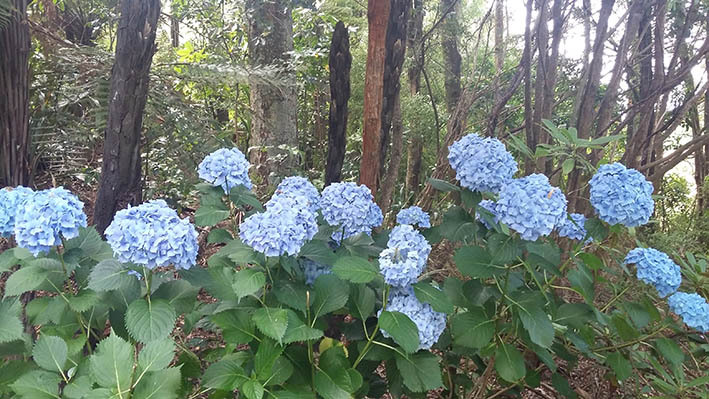 It is still summer. In fact it can be very warm. Volunteers are involved mainly in keeping the summer growth under control. We deliver compost to areas where there are flowering plants (camellias, rhododendrons, azaleas, hebes) and to areas where there has been new planting over the winter. This is to help keep moisture in the soil as the summer progresses into autumn - usually a dry time of year in this region.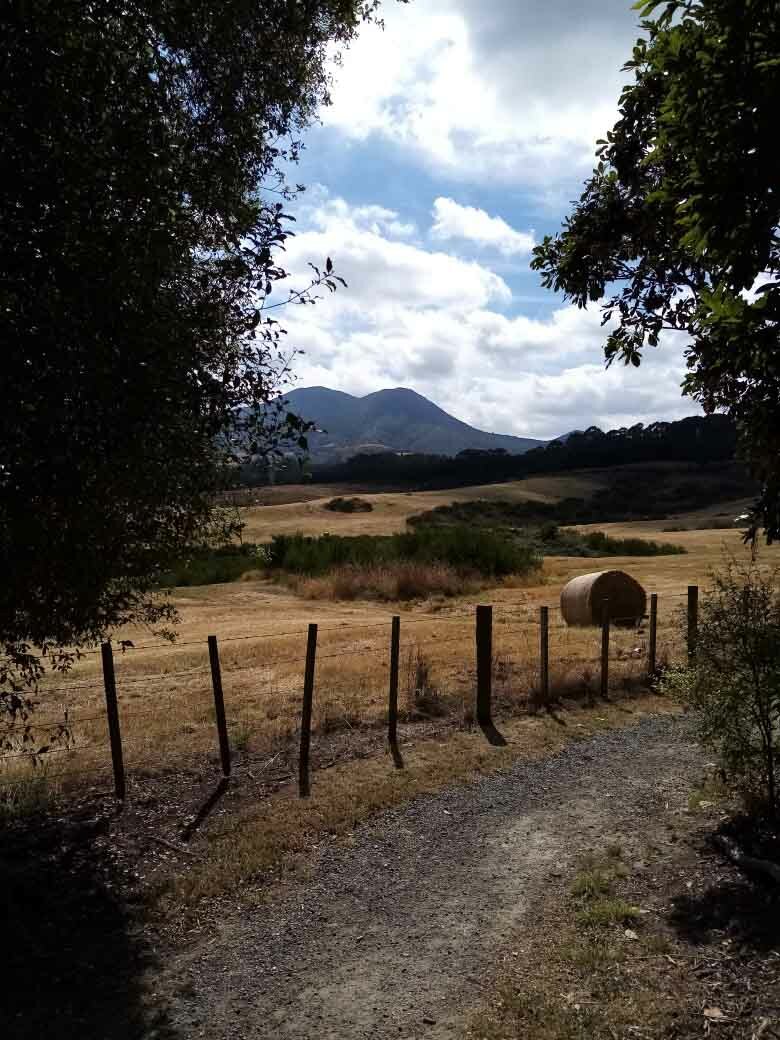 Autumn starts here. This is the time for fungi. Keep your eyes peeled. Take note: many New Zealand fungi are toxic - some are actually deadly. Don't touch!
There is more mulching and maintenance going on. There are some jobs that are always there to be done - raking and tidying the paths for one.
Because the weather is usually settled at this time of the year, we hold our annual Music Day now - usually on the Sunday after the Iron Man competition. It's a wonderful showcase of local music.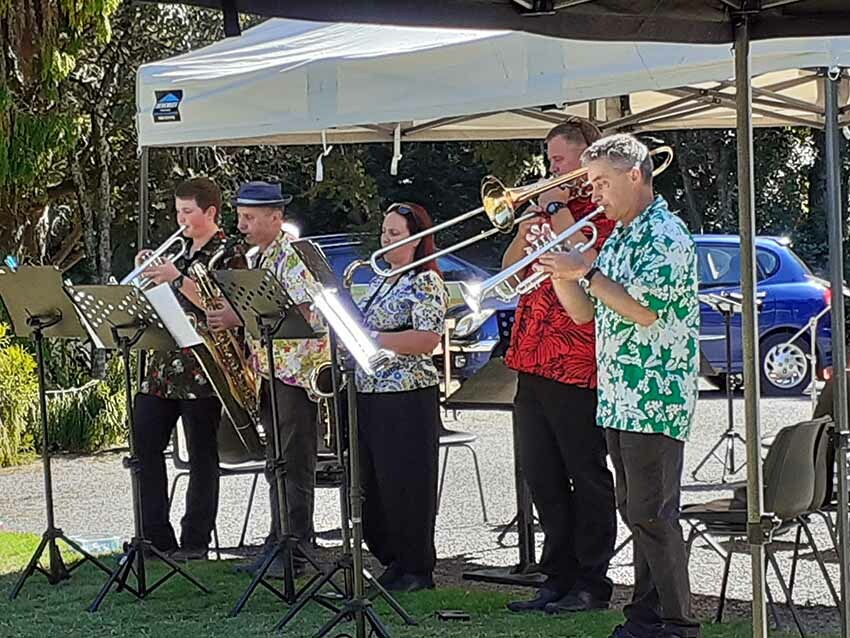 In April, autumn brings colour to some leaves, but the weather is still mild and can be dry. You will see volunteers carrying water to vulnerable plants. In 2022 volunteers worked on new irrigation lines. Check out the fruiting miro tree on the right-hand side of the toilet block (in the lower carpark) and you will probably see a kererū or two, jealously guarding the prized red miro berries. On the left-hand side a puriri tree, also with red berries, will be fruiting, but this fruit is less favoured by kererū, so they'll move to that tree in late April/early May. The natural distribution of puriri is from the lower Waikato northwards. We have at least two good-sized puriri in the Gardens and are planting more because they provide virtually all-year fruit and nectar for birds.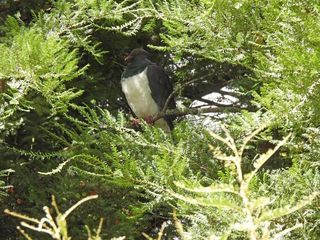 Autumn is in full force during May, and you will see spectacular leaf colours in the gardens, including a variety of maples and several Gingko trees, just south of the first carpark, beside the Old Coach Road. It's a great backdrop for family photos - make the most of it!
Sasanqua camellias will start to flower about now. Sasanquas have smaller flowers and the bushes are covered in blooms right through the winter. They provide delicious nectar for bellbirds and waxeyes. Some other varieties of camellia will also make an appearance during May.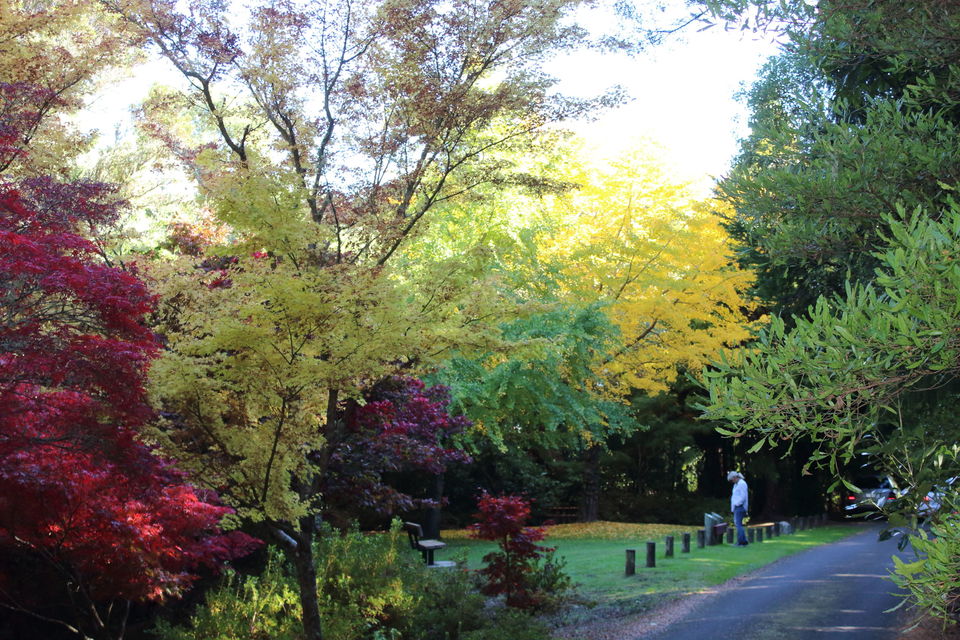 Winter has crept up on us. This is a quiet time in the Gardens. Volunteers are kept busy with maintenance - the usual pruning, mulching, weeding etc, but we also spread new gravel on paths that need it, and generally upgrade paths. May and June are good months for planting while there is still some warmth in the soil. There are always gaps to fill - if there aren't, we make them just so we can squeeze another maple or kowhai in.
Camellias continue to provide the main interest in the Gardens.
This daphne is a special thing - Daphne Bholua.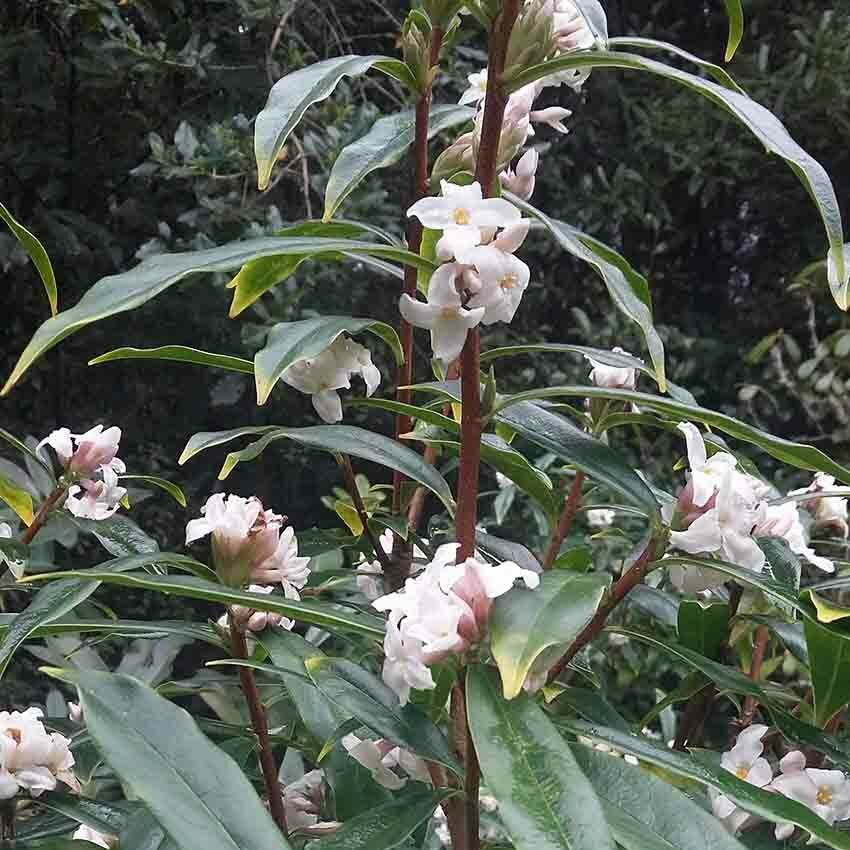 Cooler and cooler! Rain! - we like rain! The Gardens depend on rain delivered in the winter months to soak the soil, well down, to help trees and plants to get through the drier summer months.
General maintenance continues. It might involve thinning growth - cutting some trees out to let more light into the under-story where ferns and seedlings flourish, or work on paths.
The rhododenrons are preparing ...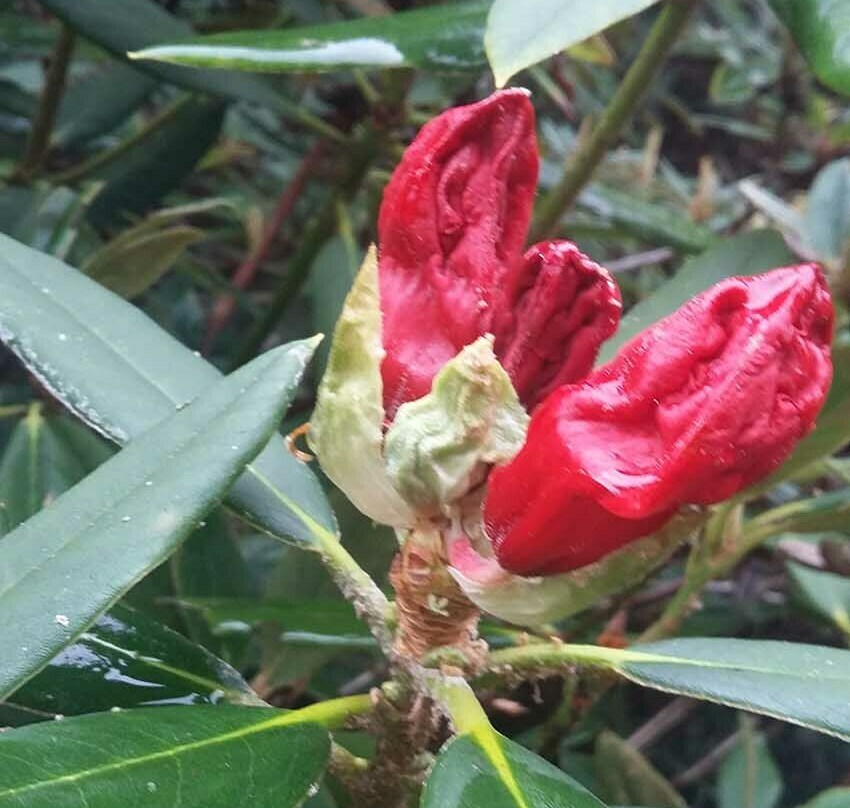 Slight stirrings of spring? Camellias continue to make an appearance. They provide nectar for a lot of birds - waxeyes, bellbirds and tui are very keen.
Early rhododendrons will start flowering now. They are great magnets for insects, especially bees.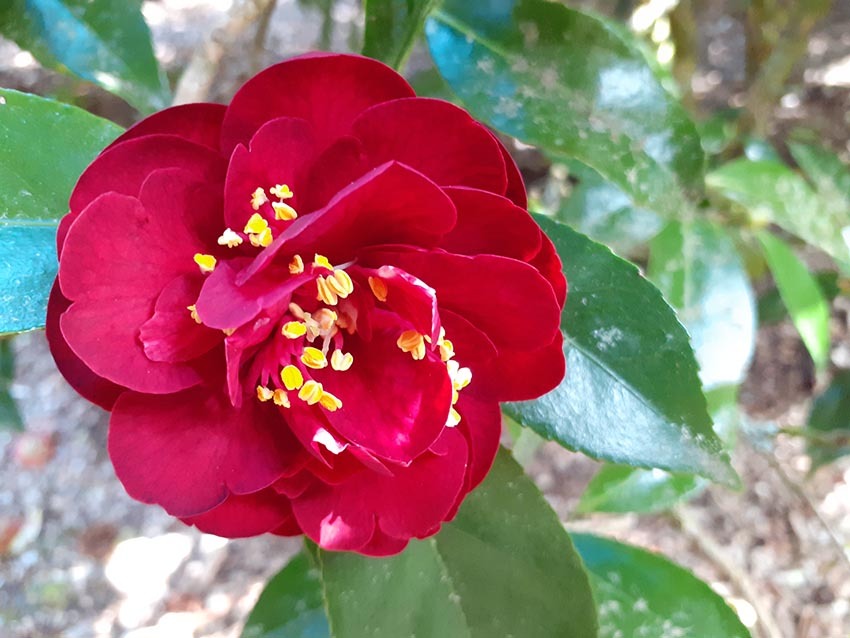 Spring is properly sprung! August, September, October and November are the most colourful months in the Gardens - there are still some camellias flowering but rhododendrons and azaleas (both Azalea mollis and Azalea indica) now lead the way although we have a selection of the most beautiful magnolias in several places.
Volunteers are busy keeping the Gardens tidy for visitors.
Now there is warmth AND moisture, mowing the patches of grass becomes a bigger job than it was over the winter.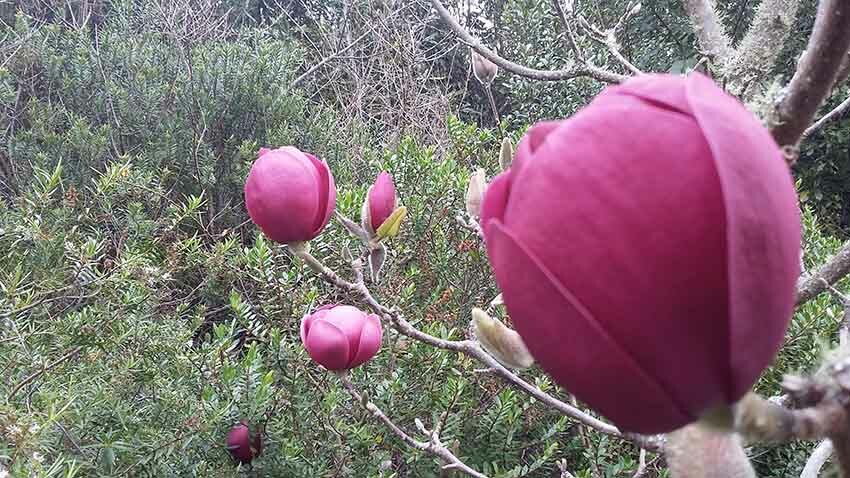 Beautiful spring. Rhododendrons are at their best now. Petals fall on the paths - so pretty and a steady job for volunteers.
Magnolias, azaleas and maples are making a good show too.
There are collections of two types of azalea in the Gardens - the beautifully-smelling deciduous variety (pictured) and the evergreen variety - completely different colour palettes and forms, but equally beautiful.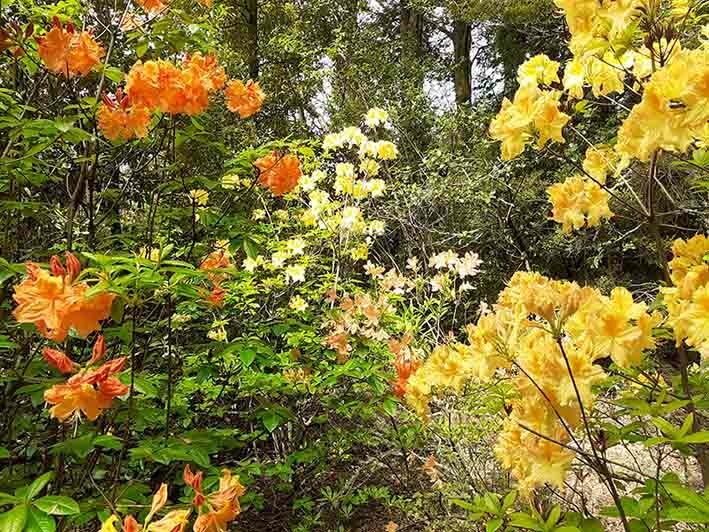 Late spring or early summer? Azaleas and rhododendrons continue their stunning display but, sadly, we can still have one or two good frosts that can do damage to flowers and buds.
As you wander around the Gardens don't forget to look out for the flowers of native trees - they tend to be small, delicate and have "quiet" colours - and often go unnoticed.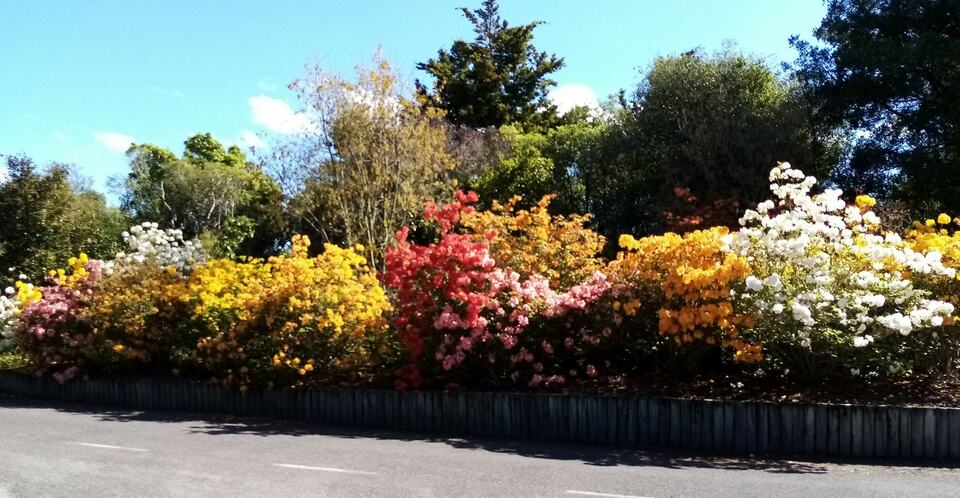 It's getting warmer! There are more visitors, more dogs, more rockhunters - see Taupō Rocks on Facebook. If you haven't already spied painted stones as you walk around the Gardens, you won't be able to stop looking for them once you know about them.
Look out for Lilium giganteum - the giants of the lily world ....